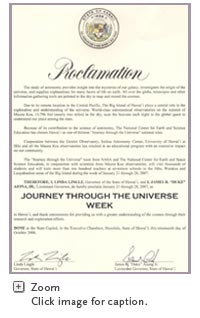 The National Center for Earth and Space Science Education is committed to growing and supporting a network of Journey through the Universe Learning Communities. It is a commitment flowing from our deep belief that it takes a community to educate a child … and a network of communities to reach a generation.
Supporting a network whose members share common goals allows the Center to maximally leverage available resources, and also gives an individual community the ability to contribute to the greater network with their unique strengths, interests, and assets. We are also committed to realizing the full potential of this network, characterized by the free flow of ideas, information, and programming between communities.
The Center will foster collaborations between communities through an annual meeting, teleconferences, and web environments where recipes for success and resources can be shared; distance learning opportunities and web-based lessons that encourage classes to work collaboratively at a distance; and opportunities for Local Team members to observe programming in other communities.
Explore a map of the Learning Community Network.