The National Center for Earth and Space Science Education (NCESSE) was established in June 2005 by the Universities Space Research Association (USRA). The Center is charged with conducting national education and public outreach programs in the Earth and space sciences, and aeronautics and astronautics, which take entire communities to the frontiers of research.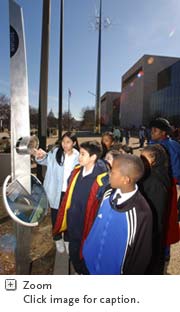 The content of the Center's programs is to reflect the research activities—and experiences of researchers—across USRA's association of 101 member universities; USRA's 13 other national institutes, centers, and program offices; and NASA, through a Space Act Agreement with NASA's Goddard Space Flight Center.
The Center embraces as its core belief 'that to continue the legacy of scientific exploration, every generation must be inspired to learn what we know about our world and the universe, and how we have come to know it'. To reach the next generation the Center engages entire communities—students, families, educators, and the public—through science education programs that provide multiple pathways for student learning.
The vision is growing a national and international network of these 'learning communities' through which science education programs and resources can be delivered on a regular basis.
Programs conducted by the Center are systemic, addressing entire school systems; strategic, addressing a community's goals in Science, Technology, Engineering, and Mathematics (STEM) education; and sustainable, with programming and resources provided to the community on an ongoing basis.
The Center's programs reflect a more than 15-year heritage of providing diverse audiences a window on the true nature of science—a process of discovery practiced by ordinary people that dare to ask questions of their world, and pursue answers through the art of scientific inquiry. National education programs dedicated to authentically represent science provide a natural conduit for researchers and research organizations across the nation to share personal experiences, research programs, and the book of knowledge set in the context of process. The Center is therefore committed to sustained partnerships with the research community in order to form and maintain a Content Provider Network.