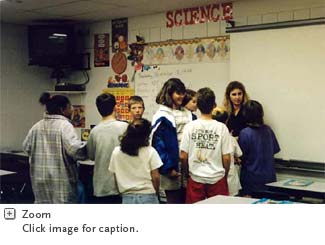 The Center is committed to ensuring that all of its education programs, including Journey through the Universe, provide a window on the nature of science and the lives of modern-day explorers, with special emphasis on not just what is known about our world and the universe but how it has come to be known. This approach reveals the very personal means by which researchers ask questions of the world and empower themselves to create a pathway to an answer.
The Center's education programs therefore provide an effective framework for partnership with research institutions nationally and internationally. For example, Journey through the Universe programming has been delivered by National Teams comprised of 114 scientists and engineers, and 9 educators, from 38 research institutions, including 7 NASA field centers and institutes, 11 colleges and universities, 7 corporations, and the Smithsonian Institution.
Researchers have conducted 4,650 Journey through the Universe programs at 1,550 schools for 197,000 grade K-20 students.