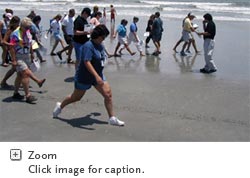 The Visiting Educators are master science educators that routinely provide professional development training in Earth and space science content for grade K-12 teachers across the nation. The Visiting Educators are either from the National Center for Earth and Space Science Education, or are NASA MESSENGER Educator Fellows.
The MESSENGER Educator Fellows are selected through a national competition to participate in the MESSENGER Educator Fellowship Program, an initiative overseen by the National Center for Earth and Space Science Education in support of NASA's MESSENGER spacecraft mission to the planet Mercury. The goal is to select 30 of the very best Earth and space science educators from across the nation as MESSENGER Fellows, representing diverse educational backgrounds—from formal educators at elementary, middle and high school levels, to informal educators at museums and science centers.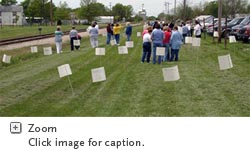 The corps of Fellows trains 3,000 teachers a year on Solar System-focused lessons and content, corresponding to 27,000 teachers trained over the MESSENGER mission lifetime (through 2012), and translating into experiences for potentially one million students. The Journey through the Universe program offers one pathway for the Fellows to conduct professional development workshops.
The Fellows are selected based on: the depth of their experience as science educators; their philosophy regarding science education (student as scientist and teacher as facilitator of inquiry-based learning); their success at implementing this philosophy in the classroom; their track record for conducting effective professional development for teachers; their experience in Earth and space science content; and their involvement at the local and national level with organizations that have a vested interest in both the content and science education.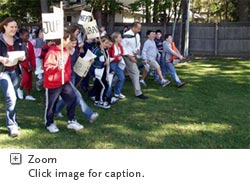 The Fellowship competition is held every two years. Download the most recent Announcement of Opportunity MEFP-AO-2006 (PDF, 412 kb).
The Fellows are therefore not just highly credentialed master science educators. They are also representatives of a NASA planetary mission. This ensures high quality workshops, and generates interest in your community's teachers to attend the workshops.
The Visiting Educators can be engaged in your community in a variety of ways:
The Educator Workshops are delivered by a Visiting Educator and Visiting Researcher team in order to provide depth of expertise in both pedagogy and content.
The Visiting Educator is available for presentations to science methods classes at college and university schools of education. Presentations can focus. e.g., on how abstract concepts in the space sciences can be made concrete in the classroom.
You might feel that special needs classes would benefit more from a presentation by a Visiting Educator with special needs experience, rather than a Visiting Researcher.
A Partnership Workshop is co-led by a Visiting Educator, Visiting Researcher, and representatives of the local education community. The workshop engages local area institutions and individuals who are interested in collaborating with area school districts on education programs. A workshop objective might be: to train local researchers on how to conduct effective classroom and/or family programs in order to address Journey program sustainability in the community.