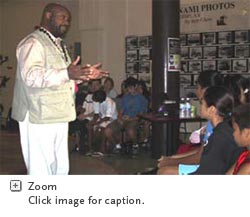 The Visiting Researchers are selected through a national announcement of opportunity which seeks out individuals that are not only passionate about what they do on the frontiers of exploration, but are also gifted at communicating their passion to audiences of all ages. We specifically seek individuals who:
operate outside of 'lecture mode' and can truly engage their audiences through audience participation;
can make science concepts, general content, and the process of science understandable by building bridges to the familiar;
are able to design grade-level appropriate presentations that relate to their research, and that connect to relevant grade K-12 national science education standards. The presentations must place their research within the context of the scientific process—resulting in a wondrously personal story of discovery. The researchers are to address: the questions they are asking of the universe, why those questions are particularly interesting to them, how they framed an experimental pathway to an answer, what they learned at the end of their journey, why that's important, and how it felt to possibly see something wholly new to the human race.
The Visiting Researchers may be engaged in your community in a variety of ways: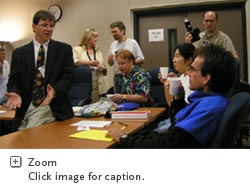 The Visiting Researchers conduct classroom presentations to students, typically 5 per day during the time they are in your community. A National Team with 6 researchers visiting a community for a week will conduct approximately 150 presentations, reaching 4,500 students—assuming 30 students per presentation. If classes are doubled-up for the presentations, 9,000 students can hear first hand about the nature of science and exploration.
Family and public programs in the community are designed around presentations by the Visiting Researchers, providing exposure to science and scientists in informal education settings.
The Educator Workshops are delivered by a Visiting Researcher and Visiting Educator team in order to provide depth of expertise in both content and pedagogy. The Visiting Researcher co-leading the workshops is from the National Center for Earth and Space Science Education.
A Partnership Workshop is co-led by a Visiting Researcher, Visiting Educator, and representatives of the local education community. The workshop engages local area institutions and individuals who are interested in collaborating with area school districts on education programs. A Workshop objective might be: to train local researchers on how to conduct effective classroom and/or family programs in order to address Journey program sustainability in the community; or to develop a suite of effective behind-the-scenes experiences in local research facilities for local students.