The baseline assessment provided as part of normal program operations can be augmented with additional studies to assess the program's strategic impact both in the short term and longitudinally. For example, given the systemic nature of the Journey through the Universe program—it's ability to be implemented across an entire grade level, and with lessons that can be integrated into the Earth and space science curriculum—protocols can be developed to assess impact on standardized test scores, and at a time when No Child Left Behind mandates testing in science.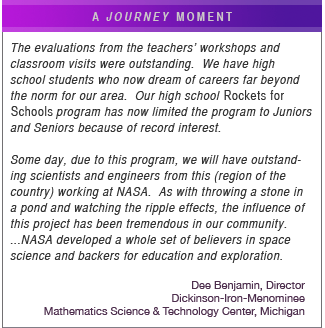 As a working example of what is possible, the National Center for Earth and Space Science Education recently worked with Baltimore City Public Schools (BCPS) to define and integrate a robust assessment analysis into their proposed Journey through the Universe program—which targets all 7,000 5th graders, their teachers, and their families. BCPS would implement a Customized Compendium of Lessons as the 5th grade Earth and space science curriculum, which has been tailored to the Maryland Voluntary State Curriculum (VSC). The assessment would be conducted by BCPS's Division of Research, Evaluation, Assessment, and Accountability to assess: 1) the level of implementation by teachers in the classroom across the 5th grade teaching staff, and 2) program impact on students as gauged by benchmark testing (grade-level wide) and from scores in science on the standardized state test (MSA).
An Executive Summary of the proposed BCPS program provides an overview of the objectives, the programming components customized to the school district's needs, and elements of the assessment plan. A more comprehensive overview of assessment metrics for the program can also be explored.
The National Center for Earth and Space Science Education will work with your community to develop an assessment plan appropriate to your needs.