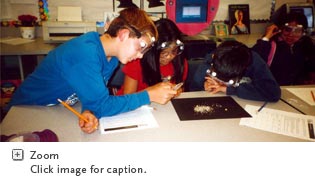 Journey though the Universe programming is supported by a curriculum library of Grade K-12 Education Modules—compendia of inquiry-based, hands-on lessons at elementary, middle, and high school levels—that are used as the curriculum for community-wide programming.
Five Modules are currently available covering topics such as exploration of the Solar System, galaxy, and Universe; Earth systems science; the search for extraterrestrial life; building a permanent human presence in space; and engineering interplanetary spacecraft.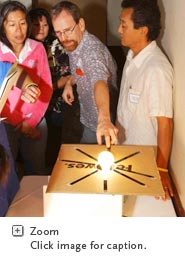 Each Module includes an Education Unit at three (K-4, 5-8, 9-13) or four (K-2, 3-4, 5-8, 9-13) grade levels. Each Unit contains lessons comprised of content overviews, pre-knowledge assessment, inquiry-based hands-on activities, assessment rubrics, resource listings, student worksheet masters, and answer keys. Typically each Unit also contains a lesson to be done with family at home, and a lesson specifically dedicated to the process of science.
Each lesson is developed from the National Science Education Standards with a focus on a specific standard. Two Modules (Voyage and Staying Cool) also address AAAS Benchmarks for Science Literacy.
Lessons are designed to develop conceptual understanding through activities that seamlessly integrate content and process. Lessons are instructionally designed to support facilitation of inquiry-based learning.
Download an overview of the Journey through the Universe lesson layout, including a description of each lesson section and section objectives: Lesson Layout (PDF, 490 KB).