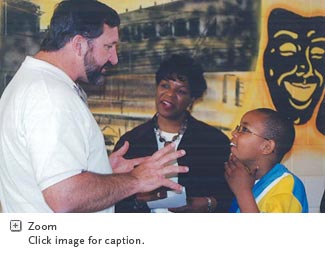 We encourage (but don't require) the community to institutionalize the Journey through the Universe program at the local level and take on full responsibility for program operations after typically two years. The community initially underwrites programming—on a strictly cost recovery basis—which then transitions by design to sustainable programming that no longer requires underwriting. This is accomplished by: 1) the Local Team continuing to schedule Classroom Visits and Family and Public Programming at the local level, but now also assembling and supporting the Team of Visiting Researchers using researchers from local and possibly regional area organizations, and 2) the corps of Master Science Teachers taking over Professional Development workshop delivery for local educators.
The Center supports this transition by:
Helping the community develop a program implementation plan that includes a transition to full community oversight of program planning and delivery in the near term.
Holding an annual conference that provides supplemental training for Master Science Teachers, and a venue for the exchange of ideas.
Providing resources on a long-term basis in support of ongoing programming and without charge.
This support can also be augmented with 'pay-as-you-go' program elements, such as:
Distance learning workshops, or a Summer Institute for the corps of Master Science Teachers
Additional Partnership Workshops
After typically two years of a community's involvement, the community has an established Local Team infrastructure, a complete understanding of program logistics, a significant depth and breadth of community-wide awareness of the program, a trained corps of Master Science Teachers, and a trained local talent pool of researchers.
Once a community stops underwriting the Center's delivery of Journey through the Universe programming, ongoing access to the no cost resources, continued use of the Journey through the Universe name, and continued membership in the Journey through the Universe Network requires: 1) an acceptable level of continued local programming under the Journey through the Universe name, and 2) that at least one Master Science Teacher attend the annual Journey through the Universe conference at the community's expense.
We also recognize that a community will need to assess program effectiveness, cost, and funds availability on an ongoing basis, and that sustaining the program is contingent on these assessments. If annual funding becomes unavailable or severely limited, but the community still wants to continue Journey through the Universe at some minimal level using the no cost resources, then the same requirements stated above apply.